Six Reasons to Visit Keilor
Suburban Vineyard Harvest Party
On the banks of Rose Creek, among the sprawl of Keilor East, is a vineyard and edible garden that covers 2.5ha. Steep and rambling, it resembles the vegetable plots on the outskirts of Varapadio, the Calabrian town from where Tony and Lina Siciliano came. Called Rose Creek Estate, here they press award-winning olive oil and where their son Angelo ferments very impressive estate wines. Next Sunday they celebrate the grape harvest and you're invited to help pick and crush the grapes then join the family for a traditional vintage lunch. Lina is an excellent cook and is planning a meal based on the vegetables, leaves and herbs from her garden, cheese and rather delicious pizzas cooked over olive wood in her outdoor oven, prepared with help from volunteers from the Stephanie Alexander Kitchen Foundation. Served with Angelo's wine this is one of the highlight events of the 2018 Melbourne Food and Wine Festival. If you can't make it to this event Rose Creek Estate has a licensed cellar door just 15km from the heart of Melbourne.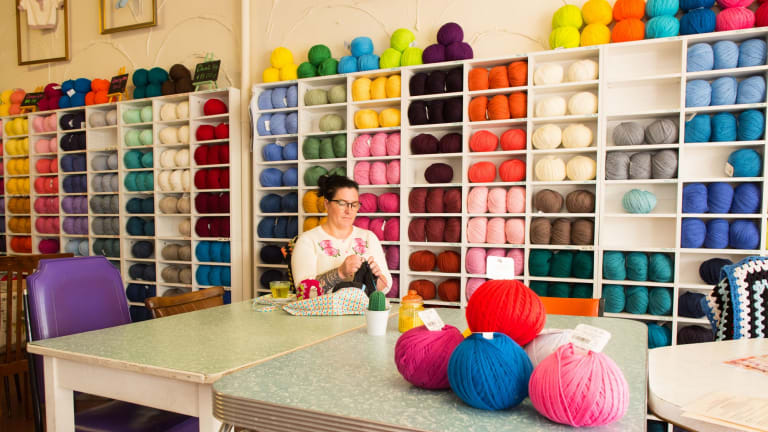 A Toast to Vendemmia, 2 Craig St, East Keilor, March 19, $92 p/p, book at melbournefoodandwine.com.au. Cellar door by appointment call (03) 9337 5471
Parklife
Wedged between the Western Ring Road and the Calder Freeway, Brimbank Park is a quiet sanctuary of open parkland, children's play areas and bushland. From the entry off Keilor Park Drive, the road drops 55 metres into the Maribyrnong River Valley, and is intersected with 25km of walking trails. This was once farmland, dotted with stone fruit trees, and there are still a few vestiges or farmlife dotting the park, such as the ruins of the old Dodd's homestead. There is a newer house, Dodd's Cottage, that stands on a bluff overlooking the ford. This river crossing is a great place to watch water birds, dragonflies and look for fish making their way up the fish ladder.
parkweb.vic.gov.au
Tight Knit
Unwind Craft Cafe is a place for knitters and crocheters to sit together, pour tea from ceramic pots and knit one, pearl one. While it's mostly a ladies' place, blokes do drop in for the oven-fresh scones served with real jam or lemon curd. Out back are concessions for local textile artists making clothing, homewares and toys while out front is a wall of yarn for sale spun by Bendigo Woollen Mills.
48 Wingarra Ave, Keilor East; Tue-Fri 10am-4.30pm, Sat 10am-3pm; unwindcraftcafe.com.au
Fury Brew
The team at Fury & Son quietly brew their beers in this brewery and taproom while the planes taking off from Tullamarine scream overhead. Set in an industrial estate, Fury & Son makes some decent hop-driven beers that are poured fresh from the keg every Friday from 12pm-10pm. Served with classic US meat-driven bar-food dishes from Houston BBQ, this has rapidly become a local institution.
46 Keilor Drive, Keilor Park; furyandson.com.au
The Maribyrnong
The Maribyrnong River meanders through the northwestern suburbs cutting a deep ravine into the volcanic plain. In Keilor East at Brimbank Park the water flows cool and clear, ancient gums lining its bank.It's the beginning of a 28km shared walking/bike that follows the river to its confluence with the Yarra some 28km away at Footscray. Expect to see wallabies in the undergrowth and the odd kangaroo on the flats. The trees are filled with numerous parrots, galahs, rosellas and lorikeets while the shrubs are home to twittering small birds such as wrens and fantails. And look out for spectacular pieces of engineering such as the Maribyrnong River Viaduct, known to locals as Quarter Mile Bridge.
The Castle
In 1849 Scottish-born pastoralist William Taylor built his family a bluestone house looking out over the river plains. He sold a great portion of his 5250ha land holding (now called Taylors Lakes) and 10 years later built himself a magnificent Scottish Baronial style castle which he named Overnewton Castle. It's open once a month offering high tea and guided tours. Look for the stone spiral staircase and the owner's collection of images of Queen Victoria.
Next tour is March 22, then April 4, 7 and 15, (03) 9331 6367; overnewtoncastle.com.au
Next Week: Smythesdale
6reasons@richardcornish.com.au
Twitter and Insta @Foodcornish
Morning & Afternoon Newsletter
Delivered Mon–Fri.